BOOK: PŌHAKU THE ART & ARCHITECTURE OF STONEWORK IN HAWAI'I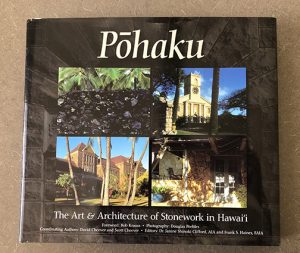 Published in 2003 by the Hawaii Architectural Foundation, this is a book for everyone who stops and admires a stone building or structure whether it is a church, residence, bridge or school building. Pausing, the viewer may wonder: who built it, why, and perhaps, how did they build it?
Pōhaku is a collection of about 100 pōhaku (stone) structures in Hawai'i. More than 50 essayists: leading architects, journalists, historians, archivists and those who simply love stone architecture tell their story.
Before the stone retaining wall at Makapu'u Point was built Waimanalo sugar went to Honolulu by ship Four stone school buildings were built from the same lava flow in Manoa.
Kamehameha I led 20,000 men who passed stones hand-to-hand to build the Pu'ukohola Heiau at Kawaihae.
Color photographs by Doug Peebles, one of Hawai'i's premier photographers.
Selected black and white photos from various archives.