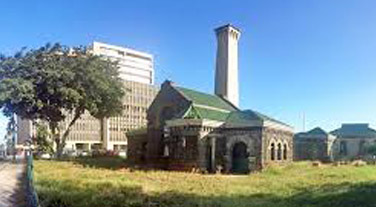 Built in 1900, the pumping station features large arched windows, exterior walls of local lava rock, roofs of green tile, and a smokestack 76 feet tall. It was the first sewerage pumping station in Honolulu, Hawaii, designed to address the serious sanitation problems of the rapidly growing city. It is located on an acre of land between the Kewalo Basin and Downtown Honolulu, at Ala Moana Boulevard and Keawe Street.
The Hawaii Community Development Authority and the Hawaii Architectural Foundation worked together to turn the historic Kaka'ako Pumping Station near Downtown Honolulu into a community resource center for seniors. The community center will cater to the senior population with intergenerational programs that bring in Hawaii's youth to help older adults through workshops and services.
On May 19, 2017, The Hawaii Architectural Foundation was honored to receive the 2017 Preservation Honor Award from the Historic Hawaii Foundation. Click Here to view the full press release.