VIDEO: WALKING TOUR WITH FRANK HAINES, FAIA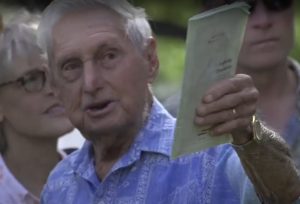 For over 20 years, Frank S. Haines, FAIA led walking tours of Downtown Honolulu. In 2015 he was recognized with a Preservation Award from the Historic Hawaii Foundation. In keeping with its mission "to improve public awareness and understanding of architecture and its value to society", HAF produced a nearly hour-long documentary of Frank leading one of his tours so that everyone, wherever they may be, can experience a "virtual tour" with one of Hawaii's foremost architects. In the tour, Frank recounts personal anecdotes and stories associated with the architecture and history of downtown Honolulu, an invaluable oral history of Hawaii from the post–WWII era to the present.
Frank was the former chairman of Architects Hawaii, Ltd, past President of the Hawaii Society/AIA and served on the boards of directors for several community service organizations, including the Oahu Development Conference, Aloha United Way and the Cancer Center. A graduate of Princeton University and the Massachusetts Institute of Technology, Frank practiced architecture in Hawaii from 1952 and was elected to Fellowship in the American Institute of Architects in 1972. He was a graduate affiliate instructor and lecturer on residential design at the University of Hawaii School Of Architecture and edited Architecture in Hawaii: A Chronological Survey, a much-needed update of the state's architectural inventory, in 1993.
Frank's legacy continues on through AIA Honolulu's Walking Tours of downtown Honolulu. For more information, or to participate in a walking tour, visit the AIA Honolulu Walking Tour webpage.